The Television Demon is a Demon who hides in Dark Places (specifically where a TV is left turned on and has a Blank Screen or Scary Image on it) and Trolls The Individual in a Demonic Style.
He is also aligned with The Phantom of Darkness.
He was originally part of a Video titled "Strange Shrek VHS Ending" which revolved around a Supernatural VHS Tape of Shrek. However, LW Leon called off the video for unknown reasons. The only real purpose The Demon served in the video was a cutaway where he was a Screamer, intended to make the video a scarier meme, however, it was discovered how well this character could have been used, and it spawned a new version of "All Star" by Smash Mouth.
Filmed in July 2018, the video opens up with The Demon screaming his head off, and then he mockingly and seemingly unfamiliarly sings All Star in his own rendition, with no music and bunch of evil laughter.
The Video was not completed until September of that year.
He would also be featured before the abridged project, in VHS VS DVD, also filmed in July. He was seen at the very end where he alerts Trolls he would be waiting for their "Worthless Opinion", laughing.
He has had singing roles before, in the original version of Surround Productions This is Halloween cover music video, as The Clown With The Tear-Away Face, and in the Finale/Reprise (also from Nightmare) which was featured in The Christmas-Eve Masquerade-accre.
He will make a return for the Surround Productions 2019 Halloween Special and Christmas Special where he will again be The Clown in This is Halloween, and he will also sing the Harlequin Demon's part in the planned Making Christmas number in the beginning of the Christmas Special.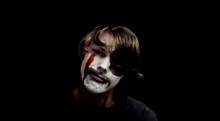 Spawned from a lost Shrek Video (not by Dreamworks).
Like The Phantom of Darkness, he had a weird, edited voice which is possibly going to be removed.
Community content is available under
CC-BY-SA
unless otherwise noted.