Jacob Bon Grim is a character who appears in the Surround Productions Universe. He is The Phantom's Russian Cousin and he is also portrayed by LW Leon. He is also the first character in the Surround Productions universe to forcefully die onscreen. 
He first appeared in Resident Evil: Black Ops, and made a minor cameo in Resident Evil 8: The Banned Version. 
Appearances
Edit
Resident Evil: Black Ops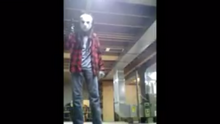 His first appearance was Resident Evil: Black Ops. He wears a white hockey mask with some possibly artificial black hair. He wears a red and black flannel shirt with a blue shirt.
Bon Grim gets called into action by The Phantom of Darkness (LW Leon), and he goes into Round 1. He is able to eliminate a few zombies, until a disguised Phantom tries to attack Bon Grim, who proves to be immune to gunshots, so Bon Grim shoots himself before the zombie kills him, as a modified version of the YOU ARE DEAD screen from Resident Evil pops up.
He was also a zombie temporarily, but he was killed by a number of gunshots.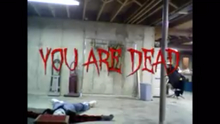 Resident Evil 8: The Banned Version
Bon Grim supposedly made a cameo, he was the first Zombie to be eliminated by Leon S. Kennedy.
Top 5 SCARIEST Commercials
While he doesn't make a full appearance, his flannel shirt and mask were found, and it was mentioned the video was dedicated to him.
The Resurrection of Jacob Bon Grim
Marks the first full appearance of Bon Grim since his November debut. A newly reformed Phantom brings him back to life, via Demonic Abilities and Dwajian Rituals. He rises from the dead, only a few seconds later to be attacked by Jack Attack, sending him running,
The Unmasking of Jacob Bon Grim
As the title would suggest, Bon Grim unmasks himself, which he is entirely reluctant to doing. However, he finally removed it. Under his hockey mask, he has a burnt, fleshy face, reminiscent of Freddy Krueger, along with a beard stubble.
LW Leon did portray Bon Grim at school once, during a Wrestling Practice, but he had to remove the mask.
Bon Grim has died a few times before, hinted in his debut video.
Bon Grim's name was unintentionally similar to The Thing/Ben Grimm from The Fantastic 4's full name: Jacob Benjamin "Ben" Grimm. LW Leon, Bon Grim's creator, did not realize this until much later on.
Community content is available under
CC-BY-SA
unless otherwise noted.