Hellboy VS Demonic Toys (also referred to as Hellboy vs The Demonic Toys by LW occasionally) is a Fanfiction created by Surround Productions. It is a crossover between Guillermo Del Toro's Hellboy films and Full Moon's Demonic Toys.
Custer Kurtz gets permission to use the Demonic Toys from The Kid, except within years he became The Man. Kurtz then sends the toys after Hellboy, as he has a history with him (very briefly revealed). Jack Attack and Baby Oopsie Daisy kill some guy and Hellboy meets them in his apartment along with Kurtz and a resurrected Karl Ruprecht Kroenen.
Hellboy takes a nap on a bench where he is greeted by the toys, who attack him, but he is rescued by Liz. Hellboy is angrily humiliated afterwards but Tom Manning doesn't really care. Hellboy risks his life against a high fall into a railing to save a hostage, and Manning still doesn't care. So, Hellboy gets angry and kills him. 
Hellboy gets angry and goes off to visit Proffesor Broom's grave. He bumps into Mr. Static and is chased all the way to a landfill and a garbage fire catches Mr. Static. Then, Hellboy, Abe and Liz go into the Toyland warehouse. Jack Attack finds them and bites Hellboy in the neck, and then Grizzly Teddy finds him, but he punches him out the window. Jack Attack gets blasted in the head by Liz. Then, Hellboy goes off to a party when he runs into a male Baby Oopsie Daisy at the party who convinces him to shoot him. Hellboy does so, unsure of himself.
Later when he goes home Grizzly Teddy in his full monster form with Kroenen attack the B.P.R.D and Hellboy got the best of Grizzly Teddy. Baby Oopsie Daisy tries to kill Hellboy but he is killed before he can do anything. Then, they 3 members are transported to the asylum that Kurtz was hiding in and they meet The Demon King himself. Hellboy and The King have a brawl but The King pretty much wins. A portal to Hell is opened and Grizzly Teddy tries to push him in, but he gets his face burnt off by the Hellfire that erupts out of the portal. Then, The King gets shoved in the portal. Kurtz is left for dead, but he isn't really dead. Ghosts emerge from the portal and 2 of them are Tom Manning and Professor Broom. It ends with Krauss, who hasn't appeared in most of the fanfiction, showing off a new gadget with mechanical failure.
Fanfic https://www.fanfiction.net/s/12606224/1/Hellboy-VS-Demonic-Toys-the-crossover-that-no-one-expected Commentary On Hellboy VS Demonic Toys (film) page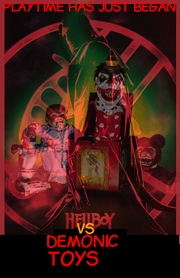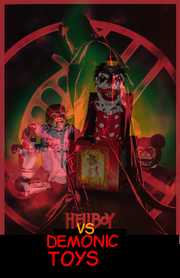 Community content is available under
CC-BY-SA
unless otherwise noted.